Over the last decade, we have understood that there is a huge shift in marketing channels from traditional marketing practices to digital marketing. Even though traditional marketing techniques are still in practice and are extensively used, it is the digital marketing which has emerged as the biggest player in marketing which is now adapted by not only people but also the brands and business. It has completely changed the way of how people market a brand and a business. Due to digital marketing, all businesses right from small scale to big market players can advertise and market their brand and a business at the universal level. With the help of digital marketing now businesses can reach across any corner of the world provided they have internet access. The digital platforms have made it easy that the small scale businesses or startups do not need to have a huge advertising budget.
Digital marketing has now become the centerpiece of all successful modern businesses in 2020.
So we all know digital marketing is marketing done on any online platform. The basic idea of digital marketing is to spread awareness of the brand and to generate leads.  As in my previous blog, I have explained the importance of digital marketing in 2020 so you can click here and go check it out.
Since we now know why digital marketing is important so let's look at its various channels and why are they important. Although by looking at these channels it may seem like a lot of them this is what makes digital marketing so powerful. It creates an online presence for you and your business.  These channels will help you have various touchpoints across all the networks where you can engage your prospects and deepen your relationship with them. Another best thing about digital marketing is that it allows you to see how audiences interact with the brand.
In this post, we are going to learn a rock-solid plan for your next campaign and we will get deep down into why these channels are important.
So let us get started!
The Top 9 Essential Channels of Digital Marketing are as follows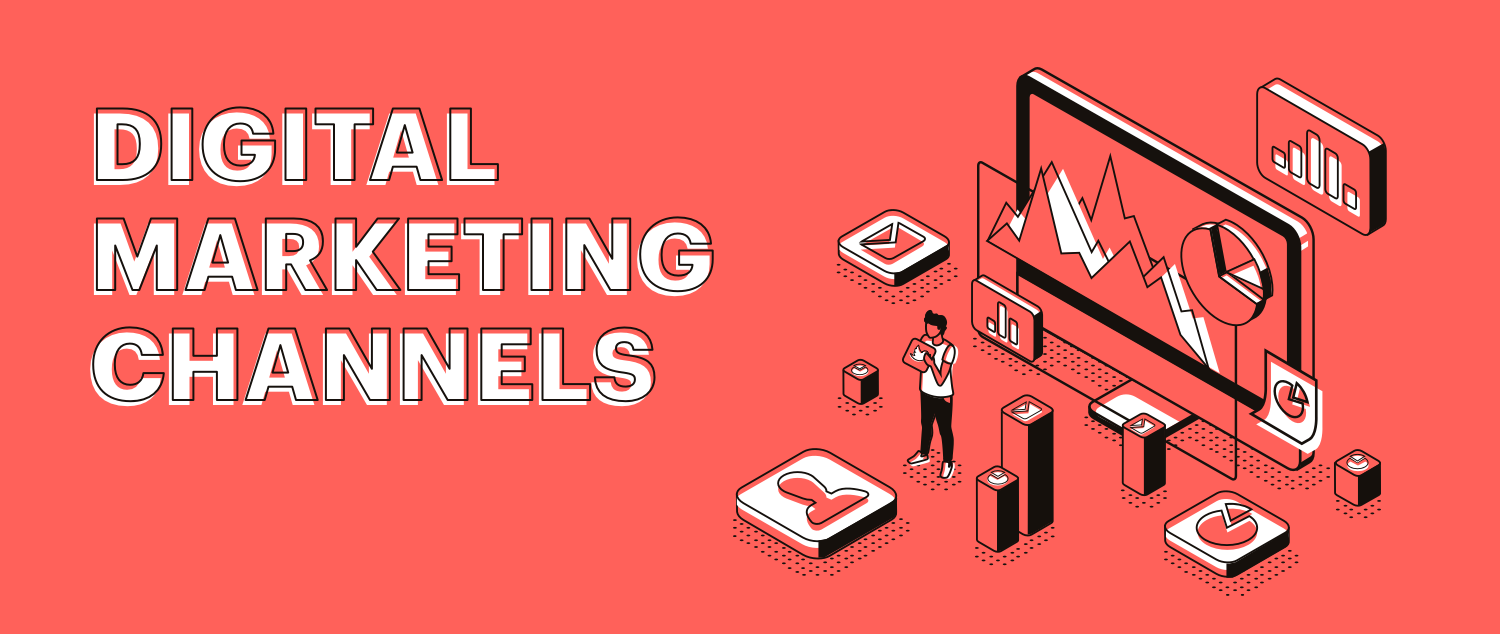 1. SEO (Search Engine Optimization)
We all probably know what SEO is abbreviated for, which is Search Engine Optimization. But do you know what to optimize? I will tell you, you need to optimize your design, content, writing, businesses, and much more.
So let us start with understanding SEO. SEO stands for Search Engine Optimization. It is the science and art of ranking your website or content high in google search results without having to pay for it. It is also called as Organic listing.
SEO is the first channel to get open in digital marketing and despite its age, it is one of the strongest channels in the digital marketing world. SEO deals with Search engines and their results. Online consumers use search engines extensively to get their requirements fulfilled. More than 90% of results are organic, people believe that results on pages 1 and 2 are genuine and will go with a company they find there. SEO helps to optimize our website and rank higher in search results and brings you closer to ranking your website on the first page.
SEO helps a brand to gain visibility in search results.
Keywords are the small search terms that play an important role to rank websites higher. Keywords are ideas and topics that define what your content is about. In terms of SEO, they're  the words and phrases that searchers enter into search engines, also called "search queries." If you boil everything on your page — all the images, video, copy, etc. — down to simple words and phrases, those are your primary keywords.
2. PPC (Pay Per Click)
If you see online you can find advertisements almost everywhere. It is one of the promotional tactics. It an advertising model where the advertiser pays the publisher only when it is clicked(mostly on search engines). It is basically a formula to buy visits to your website instead of earning those visits organically. The advantage of this channel of digital marketing is the paying bit and hence you will get a more specific audience related to your niche as these ads are shown to them as per the parameters you have entered. Also, the amount spends on PPC will depend on the placement and type of advertisement which can be a search ad or a display ad.
PPC is closely associated with the first tier of search engines such as Google, Amazon, Microsoft, etc.  These ads need not just be text but it is most preferable in the combination of text, images/videos along with associated links. Here the prices per click are fixed instead of the bidding system. In the last few years most of the Social Media platforms like Facebook, Twitter, LinkedIn, Youtube have adapted the PPC in their advertising model.
A lot needs to be done to have a successful PPC campaign. We need to research a lot, select the right keywords to bring the right traffic to the website, need well organize the campaign, and setting up an optimized landing page to get great conversions. The best thing about PPC is that search engines provide relevant and intelligent PPC campaigns by charging less for each ad.
To run PPC campaigns, it is really necessary to learn first how to optimize them properly so that it gives the best Return on Investment(ROI)
3. SEM (Search Engine Marketing)
SEM stands for Search Engine Marketing. It is the channel of digital marketing through which you can increase the visibility of your business and website through paid listing which appears on Search Engine Results Pages. Here the advertisers bid on keywords which helps advertisers to list alongside the search result of that specific keyword.
With the increase in the number of researchers and customers buying products in the online market, it has become very essential to do Search Engine Marketing in order reach to its target audience.
Search Engines use complicated algorithms to present the most relevant information to the researcher.
Keywords again play an important part in that the ad reaches its specific audience when that definite keyword is entered. It is always the sponsored or paid ads of that specific keyword that will appear on top.
The two important Search networks that SEM specialist targets are Google Adwords or Google Ads and Bing Ads.
4. Content Marketing
This is another important channel of marketing into the digital world. It is a vital part of any kind of business to create a virtual presence. Content marketing offer SEO benefits. Content can help to build a great relationship with the end-user. Content is nothing but shared information that our online promotions will present.
Content acts as a center of all digital marketing activities and campaigns.  The most important thing that your content will work is that your content should be of high quality and not plagiarized.  It is also really important that the content that we market is relevant to the business and your brand.
Content can be created in a variety of formats depending on the requirement like, blogs, images, videos, social media posts, etc. which again will totally depend on the strategy you use to promote your brand or business. It can be educational, inspiring, interactive, and much more.
Content Marketing will be the Present and Future of marketing because it is the content that will engage the potential customers as it is a strategic approach that focuses on providing relevant, valuable, and consistent content to retain and attract a clearly defined audience. If there isn't great content marketing becomes impossible for any business to reach its potential customers.
5. Website Design
A responsive website is the need of the hour for all the businesses that need to have a presence online. A customer searching for a product or service will ultimately land on a website sooner or later. It is really very important to optimize the website in such a way that it is user friendly and the researcher completes its task effectively. It is also important that the user landing on the website stays for a long time and stay interactive so that the user will become a potential customer sooner or later.
Let's take an example of Amazon.com it is one of the most used websites when someone has to buy a product online. The buttons on the website are made such that it performs tasks as display function on the button. It is highly interactive as you can share, review, and even compare products with other similar products. Also, the website is a mixture of various other products ranging from Alphabets 'A' to 'Z', so it is really necessary to have unique content on each page to keep the audience engaged.
No matter what is the size of the company or a business a website will always give a better understanding bout the business as it has relevant information about the product or service they deal with.
Websites also become an ideal channel for content marketing strategies. Through announcements and blog posts you can provide relevant and valuable content for the regular visitors as well as attracting new users towards your business and spreading awareness about your brand.
6. Social Media Marketing
Social Media is the place where most people spent most of their time. According to research in the US, people below 65 Years of age visits social media at least once a month. More than 90% of people visit social media almost every day and spend at least an hour on social media. To stay connected to your customers and get connected to your potential customers, social media marketing is necessary as the users are already spending their time there. They will likely get engaged with the content you share with the target audiences and also bring new customers to your business.
Social media marketing is all about doing marketing using social media platforms to promote a product or service. Social Media is a great place to saturate your brand and business. Usage of Facebook and Twitter is mostly very much visible to everyone in society. Posting ads on social media is a great way to increase the visibility of your brand and business. These ads posted on social media will bring a variety of impressions and also creates a great connection with the consumers.
In the last couple of years, social media has burst and emerged as a platform for advertising for businesses. The most famous websites for paid and viral advertisements are Facebook, Twitter, Instagram, Linkedin, and Pinterest, etc. Social media is also a great place to create a marketing funnel.
Social media can also be used to hear reviews and also understand the customer perspective and also give great access to market information. Businesses can analyze this information as these platforms have data analytics built into the system. They can use this information for their product or service improvement and also other marketing strategies.
7. Email Marketing
Email is considered one of the most effective channels of communication. Even today in the digital world around 70% of consumers are contacted through emails. Email marketing is nothing but the use of emails to update about new blog posts, products, discounts and offers, etc while developing relationships with potential clients and customers.
As you all know most of the time our mail inbox is flooded with promotional emails, as the business is trying to interact with the potential customers. Any company sends out an email other than order confirmation and transactional mail is considered as email marketing. Email marketing is that segment of digital marketing that encompasses all other channels of digital marketing done via social media, website, blog posts, etc.  In simple terms, email marketing keeps its customers informed and tailor the marketing messages to its audience. Email marketing targets the people who are in your sales funnel.
Email Marketing is also a form of direct marketing channel in digital marketing. It plays a pivotal role in developing marketing strategies with lead generation, brand awareness, building relationships, and promoting new products or services with promotional offers, in short keeping customers intact and engaged between purchases.
Email marketing has by far the best return on investment. As per the study based in the U.K in 2019 by a Digital marketing agency found that every $1 spent, emails have an average return on investment of $38. This is the best return on investment any channel in digital marketing can provide.
8. Affiliate Marketing
Affiliate marketing is a channel of digital marketing that works with the help of digital marketers.  Basically, affiliate marketing is also performance-based marketing wherein one business rewards affiliates for bringing in a visitor or customer by affiliates' own marketing efforts. Affiliate marketers are basically salespersons for a particular brand or a product. These marketers have strong ties with social media as they have a maximum audience there. This salesperson gets a commission on each sale or visitor they bring for the business. This way the company earns a lot of free promotion for the business. All the marketing efforts are taken care of by the affiliate marketer and all the company has to is reap the profits. Affiliate Marketing is always confused with referral marketing as both use a third party to generate sales for the retailer. While affiliate marketer relies only on financial motivation the referral marketers will focus on building trust and relationship with its customers.
Affiliate marketer uses unorthodox techniques such as posting a review for the product or service they are partnered with. Affiliate marketing is frequently overlooked by advertisers but now it is slowly catching up with the pace. Usually, marketers overlook the affiliate facility and get attracted to other marketing channel such as search engine marketing, email marketing, social media marketing, etc.
9. Mobile Marketing
Mobile marketing is a subset of digital marketing and it involves any activity or strategy built to focus on users who use mobile devices such as tablets and smartphones. The creation of mobile applications, mobile on-screen, and display ads are parts of mobile marketing. For reaching out mobile developing a mobile application is very much essential which keeps users engaged. Running mobile marketing campaigns we also need to choose mobile technologies such as SMS, MMS, social media, etc.
Short MessageService (commonly referred to as SMS or text messaging), which is particularly popular among retailers who use it to send customers promotional offers, app development, and push notifications in text, which display messages on top of a user's mobile screen. Multimedia Messaging Service (MMS) lets you add multimedia to the admix.
Looking overall the digital marketing channels would work properly if we have a proper digital marketing strategy in place. Every channel is important to create a balance in online presence.  Each channel needs to be analyzed and evaluated so that you will come across its importance for your brand and business.
Irrespective of which digital marketing channel you choose to market your brand or business on, it is important to periodically monitor the effectiveness of the channel and strategy so you can finetune the strategy as per your business goals and other metrics.
There is a list of the blog I would recommend you all to read and share among others. I hope you liked my content you can share as much as possible with your colleagues and friends.
Here is the list of articles you should definitely give a glance to. They are